The future of Power BI
Power BI is a powerful business intelligence tool developed by Microsoft. It helps organizations to gather, analyze, and visualize data from various sources to make informed business decisions. As data becomes more and more essential in today's business world, the future of Power BI looks very promising.
Here are some reasons for a good scope in Power BI :
Increased adoption: It has gained a significant user base, but it is expected to grow even more as businesses continue to recognize the benefits of data-driven decision making.
Improved integration: Microsoft has been continuously improving the integration of Power BI with other Microsoft tools such as Excel, Teams, and Dynamics 365.
Advanced analytics capabilities: It has included advanced analytics features such as AI and machine learning. We can expect to see more advanced analytics capabilities integrated into Power BI in the future.
Enhanced collaboration: It is a collaborative platform, and Microsoft is continuously improving it to make it easier for teams to collaborate and share data across different departments and teams.
Increased focus on data security: As data security concerns continue to rise, we can expect to see more security features integrated into Power BI, making it more secure for businesses to store and share sensitive data.
Why you should learn Power BI ?
There are many reasons why someone should learn Power BI, including:
Increased job opportunities: As more and more businesses recognize the importance of data-driven decision making, there is a high demand for professionals who have expertise in Power BI. Learning Power BI can help you to stand out in the job market and open up new career opportunities.
Better data analysis and visualization: It is a powerful tool for data analysis and visualization. By learning Power BI, you can improve your ability to analyze and visualize data, which can help you to make better-informed decisions.
Improved efficiency: It can help you to automate and streamline many tasks that are time-consuming and repetitive, such as data cleaning and report generation. It can improve your efficiency and productivity.
Better collaboration: It allows teams to work together on data analysis and visualization projects. It can improve your ability to collaborate with others and share insights and data across teams.
What are major topics and modules cover in the Power BI ?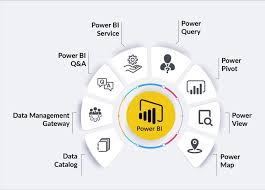 Here are some of the major topics and modules :
Data Sources: It can connect to a variety of data sources including databases, spreadsheets, cloud services, and many others. In this module, you will learn to connect to different data sources and to work with them.
Data Modeling: This module covers how to transform and shape the data to make it usable for analysis. You will learn how to clean and transform data, create calculated columns and measures, and create relationships between tables.
Data Visualization: It is known for its powerful and customizable visualizations. In this module, you will learn how to create different types of visualizations such as charts, tables, maps, and gauges. You will also learn how to customize the appearance of the visuals and how to use visual interactions.
Dashboard and Report Creation: This module covers how to create dashboards and reports in it . You will learn how to create and design dashboards and add visualizations to them.
Power Query: Power Query is a powerful data transformation tool. This module covers how to use it to transform and clean data from different sources.
DAX: Data Analysis Expressions (DAX) is a formula language used in it to create custom calculations and aggregations. In this module, you will learn to use DAX to create measures and calculated columns.
Power BI Services: Power BI Services is a cloud-based service that allows you to share and collaborate on its reports and dashboards. This module covers how to use its Services to publish and share dashboards and manage data sources.
Power BI Mobile App: The Power BI mobile app allows you to access and view its content on your mobile device.
Students placed by Websjyoti :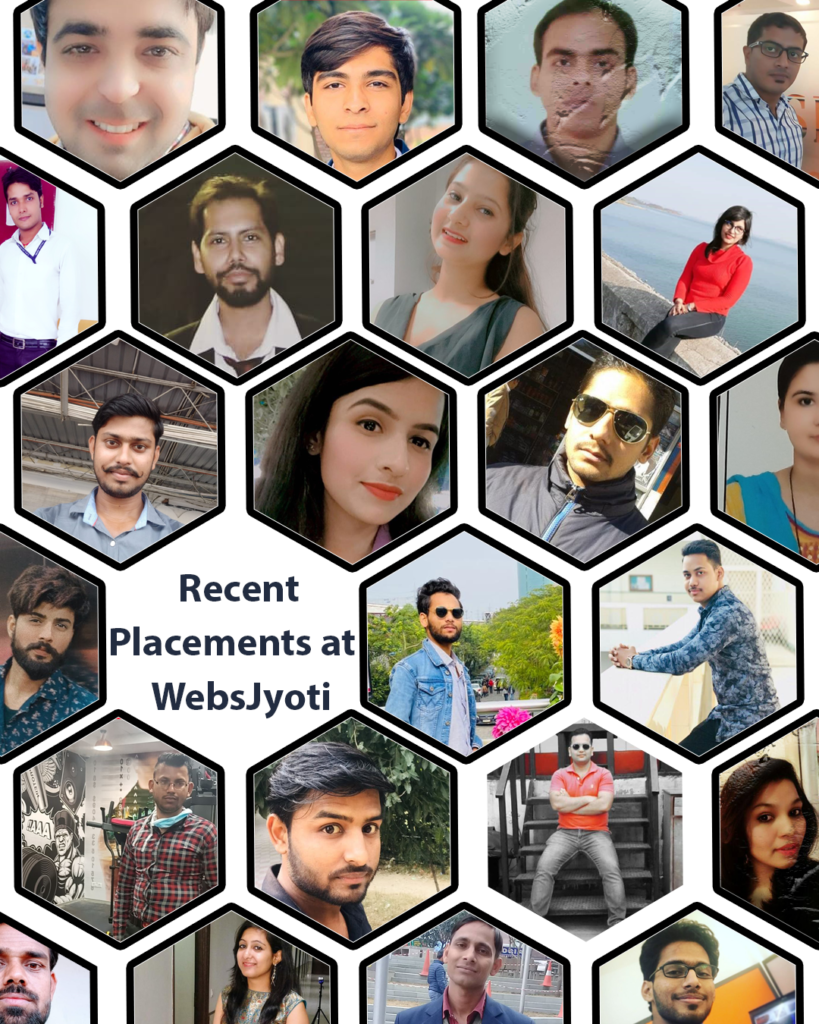 Training Overview :
7 days trial classes: We provide 7 days of free trial classes to the students to observe their eligibility and learning ability of the students. In the first week, students are monitored for their eligibility in the creativity, programming, and thought process by proving the best learning environment and training.
Personalized mentorship: We provide personalized assistance and mentorship to offer equal learning opportunities, a perfect learning environment, and growth to all interns/students.
Training and internship: We provide something beyond classroom training. We prepare the students/interns for corporate joining. We provide them with 6 hours internship. After the completion of their course (minimum 4 months). We provide the interns' proper corporate environment and real-time projects to make them ready for future corporate challenges.
100% placements: All of our interns get 100% placement assistance after completion of their internship program.
Address: M-24 Old DLF Colony, Sector 14 Gurgaon
Contact : +91-1244059041 , +91-8802000175