Excel is a powerful spreadsheet program that allows users to organize, analyze, and manipulate large amounts of data. Advanced Excel skills can include working with complex formulas and functions, creating pivot tables and charts, using data analysis tools such as Solver and Scenario Manager, and automating repetitive tasks with macros.
Visual Basic for Applications (VBA) is a programming language that is integrated with Excel and can be used to automate tasks and create custom solutions. Advanced VBA skills can include working with advanced programming concepts such as loops, arrays, and functions, creating user-defined functions, creating custom forms and interfaces, and interacting with other Microsoft Office applications
Today We are writing all about on advance excel or VBA training in Gurgaon.
Nowadays Excel is also in trending. This is very beneficial for every people who work in the corporate sector. Advance Excel Skill is required in almost all the profiles involving Excel or Spreadsheet Usage. The wide use of Excel is in Accounting & Taxation, Business & Marketing Planning, Back office Profiles, Business Analysis and MIS reporting Profiles. Excel is a very huge topic. Advance Excel and VBA Training.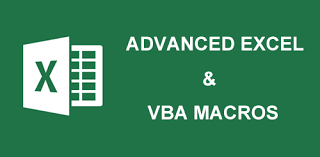 Download advance excel Training Brochure
Excel is an incredibly powerful tool for getting meaning out of vast amounts of data. … You put data in your cells and group them in rows and columns. That allows you to add up your data, sort and filter it, put it in tables, and build great-looking charts.
Why Microsoft Excel Is Important For Business Organizations. Microsoft Excel spreadsheet software has become an integral part of most business organizations across the world. … MS Excel offers a grid interface that allows the user to organize any type of information they require.